Copying nesting attempts in a new site may be the wrong choice. A case in the European Bee-eater (Merops apiaster)
Abstract
Insistent nesting attempts by a group of European Beeeaters in a new site, a pebbly bank of the middle course of Trebbia River, northern Italy, mostly failed because of the unmovable pebbles encountered during tunnel excavation. The birds later nested in an artificial sand heap, with full success that time. Various considerations suggest that birds insisted in the unsuitable site because they copied the nesting activity of model conspecifics. Finding social attraction and "public information" from conspecifics in a place where no breeding attempt was previously made would allow disentangling social philopatry from spatial philopatry.
Downloads
Download data is not yet available.
References
Ambrogio A., 2001 – Gruccione Merops apiaster. In: Atlante degli uccelli nidificanti nel Piacentino. Ambrogio A., Figoli G. & Ziotti L. (eds.). LIPU, Piacenza.
Danchin É. & Wagner R. H., 1997 – The evolution of coloniality: the emergence of new perspectives. Trends in Ecology and Evolution, 12: 342-347. DOI: https://doi.org/10.1016/S0169-5347(97)01124-5
Danchin É., Boulinier T. & Massot M., 1998 – Conspecific reproductive success and breeding habitat selection: implications for the study of coloniality. Ecology, 79: 2415-2428. DOI: https://doi.org/10.1890/0012-9658(1998)079[2415:CRSABH]2.0.CO;2
Danchin É., Giraldeau L-A., Valone T. J. & Wagner R. H., 2004 – Public information: from nosy neighbors to cultural evolution. Science, 305.5683: 487-491. DOI: https://doi.org/10.1126/science.1098254
Del Guasta M. & Marcuzzi N., 1993 – Rilievo di una colonia di Gruccione Merops apiaster negli anni 1989-1990 in Val di Cornia (LI), con note sulla biologia riproduttiva. Picus, 19: 13-17.
Finozzi M. & Tralongo S., 2002 – Dati sulla presenza del Gruccione Merops apiaster nel Parco fluviale regionale dello Stirone. Picus, 28: 123-128.
Francesiaz C., Farine D., Laforge C., Bechet A., Sadoul N. & Besnard A., 2017 – Familiarity drives social philopatry in an obligate colonial breeder with weak interannual breeding-site fidelity. Animal Behaviour, 124: 125-133. DOI: https://doi.org/10.1016/j.anbehav.2016.12.011
Hannebaum S. L., Brown B. M. & Brown C. R., 2019 – Ecological correlates of group integrity among dispersing cliff swallows. Ecosphere, 10: e02913. DOI: https://doi.org/10.1002/ecs2.2913
Heneberg P., 2009 – Soil penetrability as a key factor affecting the nesting of burrowing birds. Ecological Research, 24: 453-459. DOI: https://doi.org/10.1007/s11284-008-0520-2
Heneberg P. & Šimeček K., 2004 – Nesting of European bee-eaters (Merops apiaster) in Central Europe depends on the soil characteristics of nest sites. Biologia, 59: 205-211.
Inglisa M. & Vigna Taglianti A., 1987 – Rinvenimento di tre nidi intercomunicanti di Gruccione Merops apiaster. Avocetta, 11: 167-168.
Kerényi Z. & Ivók E., 2013 – Nestsite characteristics of the European Bee-eater (Merops apiaster L.) in the Gödöllő Hills. Ornis Hungarica, 21: 23–32. DOI: https://doi.org/10.2478/orhu-2014-0002
Pinoli G. & Gariboldi A., 1987 – Il Gruccione, Merops apiaster, in provincia di Pavia. Rivista Italiana di Ornitologia, 57: 213-220.
Serrano D., Forero M. G., Donázar A. & Tella J. L., 2004 – Dispersal and social attraction affect colony selection and dynamics of Lesser Kestrels. Ecology, 85: 3438-3447. DOI: https://doi.org/10.1890/04-0463
Supriya K., Mohan D. & Vasudevan K., 2012 – Availability of nesting habitat may not drive colony formation in Chestnut-headed Bee-eaters Merops leschenaulti in southern India. Journal of the Bombay Natural History Society, 109: 30-36.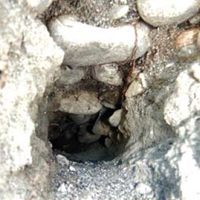 Info
Section
Short Communications
Keywords:
colonial birds, nesting site, copying behaviour, social attraction, group fidelity
Statistics
Abstract views:

190



PDF:

73
How to Cite
Londei, T. (2021). Copying nesting attempts in a new site may be the wrong choice. A case in the European Bee-eater (<em>Merops apiaster</em&gt;). Rivista Italiana Di Ornitologia, 90(2). https://doi.org/10.4081/rio.2020.478
Copyright (c) 2020 the Author(s)
This work is licensed under a Creative Commons Attribution-NonCommercial 4.0 International License.