The White-headed yellow wagtail Motacilla flava leucocephala (Przewalski, 1887): migration, movements, and breeding and wintering ranges
Abstract
The subspecies leucocephala of the western yellow wagtail Motacilla flava is endemic to the Altai-Sayan Ecoregion (Central Asia). The occurrence of leucocephala is associated with saline water bodies and solonchak habitats. Its distribution, especially outside the breeding season, is still uncertain. The aim of this work is to better define the breeding range, migratory movements, and the wintering range of this subspecies and provide guidance to distinguish whiteheaded intraspecific hybrids from the true leucocephala subspecies. The reproductive range of leucocephala is concentrated near lakes and wetlands in the Great Lakes Depression (north-west Mongolia) and in the flat southern part of the Tuva Republic (Russian Federation). The small population uses two separate areas for wintering: the eastern equatorial Africa reached through the Great Rift Valley Flyway and the Indian subcontinent reached along a route that bypasses the great belt of mountains and plateaus of central Asia to the west.
Downloads
Download data is not yet available.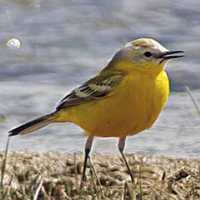 Info
Keywords:
Motacila flava, subspecies, Asia, Africa, Middle East, Indian subcontinent, breeding, wintering, hybrids
Statistics
Abstract views:

1904



PDF:

301
How to Cite
Ferlini, F., Artemyeva, E. A., & Sundev, G. (2021). The White-headed yellow wagtail <em>Motacilla flava leucocephala</em&gt; (Przewalski, 1887): migration, movements, and breeding and wintering ranges. Rivista Italiana Di Ornitologia, 91(1), 3-26. https://doi.org/10.4081/rio.2021.456
Copyright (c) 2021 the Author(s)
This work is licensed under a Creative Commons Attribution-NonCommercial 4.0 International License.