Old and new nomenclatural combinations for Echinochloa esculenta (Japanese millet) and E. frumentacea (Indian millet) (Poaceae)
Abstract
Echinochloa esculenta and E. frumentacea are crops derived from the wild E. crus-galli and E. colona respectively. They are currently treated at the species rank, although different infraspecific ranks have been proposed for both taxa in the past. After some considerations on domestication of Japanese and Indian millets, we propose to follow the concept by Harlan and De Wet, which implies the subspecific rank for the domesticated plants. Accordingly, the existing combination for Echinochloa esculenta is recovered and a new combination for E. frumentacea is here established.
Downloads
Download data is not yet available.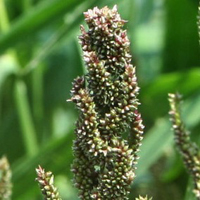 Info
Section
Short Communications
Keywords:
domestication, Echinochloa, nomenclature
Statistics
Abstract views:

1158



PDF:

84
How to Cite
Banfi, E., & Galasso, G. (2021). Old and new nomenclatural combinations for <em>Echinochloa esculenta</em> (Japanese millet) and <em>E. frumentacea</em&gt; (Indian millet) (Poaceae). Natural History Sciences, 8(1), 71-72. https://doi.org/10.4081/nhs.2021.490
Copyright (c) 2021 the Author(s)
This work is licensed under a Creative Commons Attribution-NonCommercial 4.0 International License.