Botanical geography correspondence between Alexander von Humboldt and Filippo Parlatore (1851-1852)
Abstract
This paper focuses on the relationship between Alexander von Humboldt, the famous German explorer-naturalist and Filippo Parlatore, botanist from Palermo (Sicily, Italy) in the field of botanical geography. Our considerations are based on three letters written by Humboldt to Parlatore in May 1851 and two letters with attachments written by Parlatore in answer to Humboldt in May 1851 and June 1852. The former are preserved in the Biblioteca comunale di Palermo (Palermo City Library) and the latter in the Staatsbibliothek zu Berlin (Berlin State Library). On reading the correspondence it can be inferred how, on the one hand, Humboldt asked Parlatore for verification on some important questions of botanical geography that he intended to cover in the second part (never published) of volume five of his Kosmos, and how, on the other hand, Parlatore diverged in his answers from Humboldt's intent to search for universal laws to explain the distribution of plants on the planet. In fact, Parlatore was engaging in new lines of research, which, though stemming from Humboldt, were moving towards a modern twodimensional interpretation of natural plant communities according to which vegetation and flora, though interacting, are distinct realities and require different methods of study. The paper includes a portrait of Parlatore and one of Humboldt, a taxonomic table of the plants mentioned by the two scientists in their correspondence and illustrations of a selection of the same plants.
Downloads
Download data is not yet available.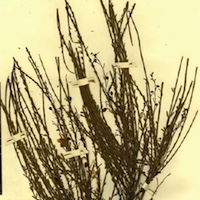 Info
Keywords:
flora, Herbarium Centrale Italicum, XIX Century, phytogeography, vegetation
Statistics
Abstract views:

49



PDF:

38
How to Cite
Banfi, E., & Visconti, A. (2020). Botanical geography correspondence between Alexander von Humboldt and Filippo Parlatore (1851-1852). Natural History Sciences, 7(2). https://doi.org/10.4081/nhs.2020.470
Copyright (c) 2020 the Author(s)
This work is licensed under a Creative Commons Attribution-NonCommercial 4.0 International License.